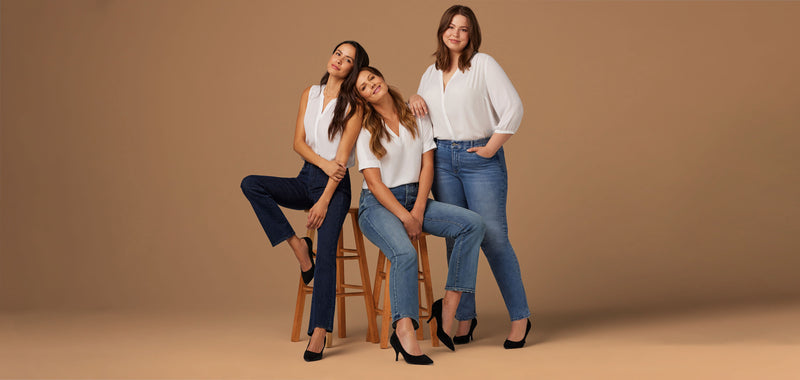 Jeans go well with everything and never go out of style. The variation in colors, washings, fits and sizes makes these pants an ever-interesting option. Moreover, you can also choose a cheaper or more expensive version. In other words, the choice is endless. This is just as well because if we were all to walk around in the same pair of jeans or pants, life would get very dull. Still, having a pair of jeans in your wardrobe is never a bad idea. That's why NYDJ has a collection with timeless fits that are always in stock so you can shop for the perfect pair of classic jeans year-round.
Which pair of jeans are the best fit?
The most popular colours are blue, gray, and black. These colors go well under almost every top and can easily be combined with trendy pumps, stylish sneakers, light sandals, or loafers. For timeless items, a pair of pants without a print or bright color is a better choice. You never know how fashion trends develop and whether you can wear that model in the future.
In addition to color, there are also variations in washings and fits. Will you choose a denim wash with a slight fade on the upper legs? Or will you go for small or large holes around the knees? In this respect, designs vary enormously. But the same applies here: these models won't stay in style forever. So if you want a true Essential in your wardrobe, stick to a basic model.
Quality over quantity
By correctly styling your pair of pants, you can easily create the perfect look for your business meeting, party, or romantic dinner. The timeless classic models are made from premium denim. This sturdy material has just enough stretch for freedom of movement. Moreover, the high waistline and perfectly placed back pockets show off your figure. Denim is a strong fabric for jeans that are made to last and don't lose comfort and quality over time. That's why investing in an expensive pair of pants is better so you can enjoy them for many years.
Lift Tuck Technology
We believe there's a perfect pair of pants for every woman, and those pants should be accessible and affordable. NYDJ believes that comfort and style are essential. For the perfect combination, our pants and jeans feature our exclusive Lift Tuck® Technology and are designed with innovative fabrics. The jeans are designed to show off your figure and flatter and contour your feminine curves for a beautiful silhouette. View our timeless collection with classic denim styles, and make sure your wardrobe has that one pair of go-to jeans!